Feb 17 2016
February 17, 2016 in Search Engine Optimization | 8 Comments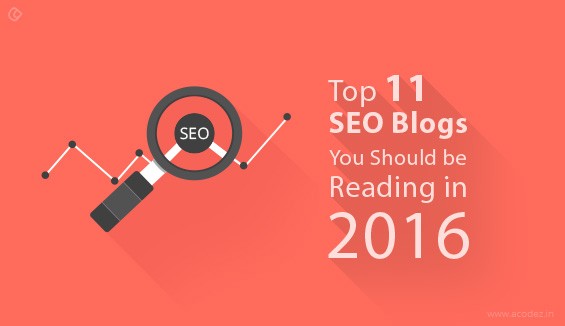 We are repeatedly being told that SEO is changing as always. The year 2015 brought about many exciting updates in SEO that was least expected. Don't know whether you have noticed these changes:
the growing importance of semantic SEO,

the updated features in Adwords,

Google+ updates and authorship

The Panda and Penguin updates and many more
These were the highlights of the previous year.
Some of my readers already know these things by heart and have implemented these as part of their SEO tactics. But, there are those who are ignorant of these updates that change every season.
I would recommend keeping an eye out for the top SEO blogs that roll out industry news and updates instantly.
You might not be able to get your hands on all the news but a few.
So, which are the kind of blogs that you need to follow?
Follow those SEO blogs that brings you the latest SEO related news. Don't just go behind any news but the one that can be helpful for your company.
Usually, these top SEO blogs do not report news for the sake of it, but provide additional resources such as the relevant articles, videos, guides and more.
This is the reason why these SEO blogs are the top ones.
Now, you know where I am taking you. To help you find what you are looking for I have gathered the top 11 SEO blogs here, that will rock the year 2016 for sure:

Is there any other place better than the Google's Official blog to find out what Google is up to? There is no way that it gets tired of bringing you the latest news and updates. It brings you up-to-date information about SEO and all that means a lot to you. Do I need to say anything more?
The only thing is that it will provide you with the latest news from Google. Let me get this straight, you won't get information on anything apart from topics related to Google.
For that you have to definitely read other blogs.
- The Big Four -

There is hardly anyone who has not heard of the Search Engine Land. You can find everything about SEO here. It is infact the news breaker. And, the most interesting part is that it has not one but many articles related to a single topic. All your concerns are taken care off. The same authors make their contributions, but the content is awesome.

Another important one where you can find SEO related news. The site's design is beautiful and provides easy navigation. As I said Search Engine Land, is the newsbreaker, but still Search Engine Watch, keeps an eye out for these news and reports these. They have all the news covered and you can find that they have a little more information than Search Engine Land has got. Either ways, both are informative.

This is a platform that makes most of its post from the contributions of guest bloggers. One of the reasons why you can find a variety of topics published here. Also, brings all the news that are reported by the above mentioned newsbreakers. It also amuses its readers with some interesting videos, awesome comments and gives a deeper insight into the content.

Formed in the year 2004, this SEO biggie has been unveiling some of the excellent beginners guides. You will find that they don't leave out any topic untouched, in fact they provide some additional information which is really beneficial if you are a small business enterprise. They may not be SEO newsbreakers but they definitely strive hard to brush across all the topics that once made to the headlines.
- The Blogs Not to Miss -
This guy has proved it again and again. He needs no introduction. We have no proper term that can define who or what he is. For some he may be a content marketing expert, while others might refer to him as an SEO mastermind while he might be the Social media guru for others. But, he has got it in him. Neil Patel started conquering hearts at the age of 15 and still continues to pamper people with what next in the world of content marketing, SEO, tech and Social Media.

Just like Neil Patel, Backlinko's Brian Dean needs no introduction. This person has made our lives really easy with his abstract Email Marketing tactics that work wonders. Backlinko is a complete resource for anyone who is a beginner to SEO, landing pages, content marketing and more. He walks you through case studies and videos to explain everything in detail.
Just as the name suggests "Keep it Simple, Short", the blog contains data and its related metrics. Though they cover everything related to the web and tech, they have got the thing that will help you to learn and analyze SEO better. In fact if you are searching for a blog that covers each and every minute aspect of SEO, then you are here.

It is more of a company that provides you with some of the best SEO audit tools rather than just blogs. This means they are experts at the trade. The blogs are usually contributed by guest bloggers and the information is always updated.

Content is King and that is what Content Marketing institute teaches us. The major focus is content that counts and attracts. Like KISSmetrics, SEO also forms a part of their blog. You can find information on how you can curate content that serves you from the SEO perspective.
This is one of the most interesting in the lot. No one can beat their style of presentation. They emphasize the importance of "Humanizing" which is clearly visible in their conversational tone that you can find in their articles. People can easily interpret and understand things. It covers a wide range of topics related to sales, web design and more. Inbound Marketing is their thing and have you thought of getting Inbound Certified?
🙂 Honorable Mention: John Rampton's Personal Blog!
[Tweet "Best #SEO Blogs: Top 11 Sources to Stay Up-to-Date "]
These are a few of them but there are in fact many more that contain vital information that you cannot miss out. If you find that I have missed some, kindly point out. Also, tell me why you prefer reading these.