Sep 12 2016
September 12, 2016 in Online Marketing Search Engine Optimization | No Comments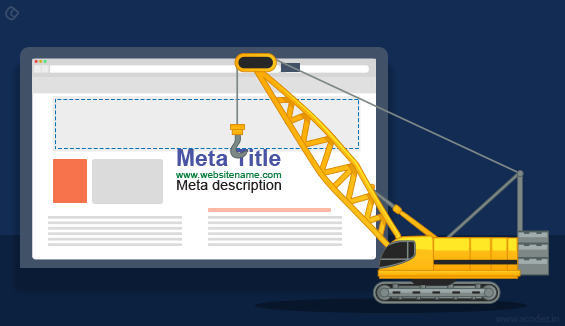 Did you by any chance happen to catch Google's latest announcement when Google Engineer Paul Haahr shared the news that Google will now consider Click-Through Rate data as one of the ranking factors?
What has this got to do with our theme of discussion?
Yes, it has got to do everything with our discussion on Meta tags.
Sometime back in the year 2009, Google announced that Meta descriptions are never a part of Google's ranking strategy.
But, this is in contradiction to the latest announcement from Google.
What happens when someone finds that your meta tag is uninteresting? It is obvious that they will not click through, and if the others follow suit, Google will consider that your link is irrelevant and push it down, and your site's rankings will drop.
On the other hand, if you had a much relevant meta tag and you are ranking towards the bottom of the SERPs then, people will start clicking through, and Google will consider that you have something interesting, and it will take your site to the top.
Ever thought how a meta description could help you in your SEO efforts? You are not utilizing the power of meta descriptions, in fact, most of us are unaware of its capabilities in taking the websites to the next level.
Your websites might be ranking at the top positions in the search engines. But, there is something that is preventing you from acquiring fresh leads.
We know that something is not right.
Yes, we are wrong somewhere and where is it that we have gone wrong?
How do we know that we are wrong?
Your site tops over the search engines, but you have no customer conversion happening. Do you need more evidence to convince yourself that there is something that is going wrong?
I can actually feel what you are experiencing now because there was a time when I went through these phases, and I was helpless.
I didn't know what was wrong.
There were no customers, but my site was at the top, and that was what confused me more.
It is obvious to feel confused because we have done all that takes to drive our sites to the top most point of the Search Engine Result Pages.
This made me wonder why customers are not interested in my product when my website is perfectly optimized, and there is quality content to help them out. So, everything is perfect.
We have been promoting our brand leaving no stone unturned at letting people know that our brand does exist.
Also, there is a proficient SEO team toiling hard to take the website to the top most position in the search engine result pages.
Your page ranks for all the keywords for which it has been optimized.
This means you have won the race of standing out and attracting the customer's eye.
As you know, the internet is one of those places which is overflowing with competition, and we are all a part of this rat race.
A site that performs exceptionally well can survive these challenges and succeed, and this should be a moment of pride because you have managed to stand against all the odds and win the game.
But, now when you have achieved all these, there is something that stops your customers from falling in love with you.
Why?
Yes. Now some cheese for you.
After months of scratching my head and brainstorming, finally, I found out where I was wrong.
But, before that a question to you:
Have you checked your Meta Description? Yes?
An important thing you need to keep in mind about Meta Descriptions is that it could ruin your business if you don't create it, but it can wonders if you have done it the right way.
So, if you could get someone who could write some explicit meta tag descriptions for your site, then, you are lucky. Finally, there is someone who could join in your efforts to impress your people and help you generate sales.
Ready to know more?
Let's gear up then!
But, before I tell you about the way Google is expecting you to develop your meta tags, there are other things that you should be knowing.
So, where do we begin?
For a start let us discuss what Meta tags descriptions are?
What comes to your mind when you hear the term "Meta tag description"?
Do you think it's something technical? It might sound, but it is not.
In fact, these are simple and easy to create.
These Meta descriptions often referred to as Meta tags are the little snippets of information that you can find in the search results.
And, the amazing thing about these Meta tags is that they are not present on the page but is tagged onto it.
From where do you think a person gets to know about the content that is present on a page?
Simple! Meta tags tell them what they are looking for could be present on this particular page if they click on the link.
A simple rule for writing Meta tags is that these should be appealing and attractive and catchy. While it is appealing, it should also convey the message.
Rack your brains and develop a unique content that hits the eye of the reader.
When it comes to business owners, this is the first point from where your product promotion starts. It is through your meta tags that you are telling your people what you are doing here and whether you can provide them with what they are searching for.
With a logically impressive meta description, you are directly conveying it to your people that you have got it here on your site, and undoubtedly, they will come to you.
Take a tip from here marketing pros, tell your people what they are going to find inside when they are about to click your link.
The timing is too crucial, and you have to create an explicitly impressive meta description that will arouse their curiosity, and they will want to click through and find out more.
But, if your description seems unappealing, what will happen is they will never click through but proceed with the next in the queue.
And, you lose them!
And, another thing is all your effort on developing a beautiful content is in vain.
Which are the places where Meta tags are applicable?
Webpages, E-books, blogs, case studies, or anything that is published on a website need Meta descriptions.
So, if you are doing it right, your site will win the race or else you are going to lose the match because all that Google cares about is user experience.
The character limit for meta tags is usually: 150-160 characters and cannot exceed this. If it tends to exceed this limit, Google will truncate the extra characters.
So, what is the customer reading?
Half of what you have written has been truncated, and they are reading the remaining half which doesn't make any sense to the reader.
There are all possibilities that they will abandon the site and proceed with the next link in the queue.
Also Read: Infographics: Google Ranking Factors by Backlinko
A searcher's finishing point is in your Meta description.
Also, another point that you need to keep in mind when developing Meta tags is that this is what is visible when a web page is being shared on the Social media platforms.
And, what does this mean?
It means that we ain't going to force them to pursue their search journey further after reaching us.
Let us note this point!
I have come across two things that people do which lead to creating poor meta tags and let us examine these two scenarios that you need to avoid when writing meta tags.
1. People have a vague idea of meta tags:
Regardless of whatever happens, Google is concerned about providing user experience, and if you cannot provide it, you are finished!
You dare not stay back.
Here, we are discussing those people that have no idea of what a meta tag is or the role it plays in helping a business succeed online.
So, for the people who do not write Meta tags, remember Google is concerned at providing the best user experience; so it will extract some part of the old content that lies on your website and adds it to the meta tags.
This machine generated meta tags are useless.
And, what happens is you fail to impress your people. For heaven's sake let's do it for ourselves rather than depending on a machine to get it done.
Now, the second scenario:
2. Sluggish and illogical Meta descriptions:
Here, this category of people knows about Meta tags. But, do not know what they are writing.
You can find that there will be grammatical errors and sentence formation errors. Then, why do you need such a meta tag that is unable to convey the meaning?
So, now the question is how do you create a meta description that will hit the reader's eye?
A little technical knowledge:
Meta tags are operating behind the screens, so you need to enter these into the CMS of each and every page of your website.
For instance, if you are creating a new blog post in your CMS, you will find a field labeled "Meta Description" under the SEO tab.
Fill in it with the relevant Meta Tag.
First things first…
Now, you know how and where to position these.
Let me provide you with a few tips on writing Meta tags:
#1. The character limit:
As we have already discussed in the beginning, that the character limit for Meta tags is 150-160 characters.
You do not want your characters getting truncated as they exceed the Google's standard limit and people never clicking through because your meta tag sucks!
#2. Words are powerful:
Haven't you heard them say that always use punch words that can create an impact while writing content?
The same rule applies when you write Meta tags.
You could include words such as "incredible", "superb", "offers" etc. and make your readers go gaga!
#3. Illustrate your business:
Who says you cannot explain what your business in those few words?
You can express what your business is about in a nutshell.
#4. Add some space for creativity:
Creativity can take you to places! It is not necessary that you fill in all the entire 150-160 characters, but you can convey your messages in a lesser character count.
Weave in some creativity and fun while writing. All eyes fall prey to those points where there is fun rather than just boring content.
#5. Neat description:
This is not the place to brag about your organization's history. Be precise when you convey what your business is doing here.
#6. Flaunt special offers and deals:
There could be no better place than a meta tag where you can infuse in all those offers or discounts that you have got for them.
#7. Fresh and unique descriptions:
One of the main rules of the web, when you are framing any content, is to develop unique and fresh ones.
And, when it comes to Meta tags, make it appear natural but don't stuff in a lot of keywords which is not recommended.
#8. The title of your tag plays an important role:
The reader's eye first hits the title before they read your description. So, it is important to have an interesting title. Because if it interests the reader only then, they will read the rest.
#9. Call-to-Action that is clear:
It is another imperative part of writing Meta tags. You need to have a clear Call-To-Action for your meta descriptions because people like it that way.
#10. The Meta tag should offer a solution:
These people have reached you looking for a solution to their problem and here, is where you can trap them.
Create a feel that you are going to give them access to the solution for their problem.
#11. Don't reveal too much:
You can talk about your business without saying it all. In fact, cramming in a lot of words could be harmful.
So, limit your words as we have already discussed.
#12. Exhibit your brand identity:
Utilize the power of meta tags for brand personification. This plays an important role specifically in the case of home pages.
#13. Proofreading your meta descriptions:
It is necessary that your meta descriptions convey the meaning and not something that is uninteresting and irrelevant.
#14. Empathize:
Emotions connect and work well with the audience. It would be great if you can generate feelings through empathy.
It works!
#15. Preview:
Don't post it unless you have previewed. It is important to check what your description looks like before you post it.
Here is a tool to preview your meta tags: totheweb.com
These are the main points that you need to consider when writing Meta tags.
What are the points that you consider when creating Meta tags?
Share your thoughts, and comments with us.
Acodez IT Solutions is a web design company in India offering web design and development services in India and globally. We implement the latest technologies in our web development process, and you can find the difference in our products. Also, we are an SEO agency in India offering all kinds of digital marketing solutions to help you take your business to the next level.
For any business inquiries, contact us today.