Jun 17 2016
June 17, 2016 in Search Engine Optimization | 2 Comments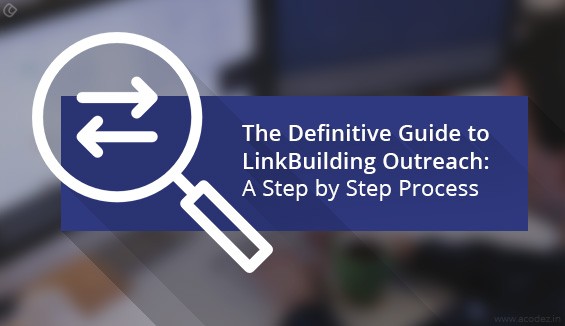 Link building through Email Outreach!
Email Outreach was a long forgotten tactic used in boosting business. There was a time when your Emails would be directed into the spam box.
You would keep on waiting for a long time expecting a response but all in vain as no one would turn up.
And, the whole lot of us stopped reaching out people via Email marketing.
But, then there was another category of online marketers who wouldn't give up.
They pursued the same path whatever dejections they happen to face.
They knew very well that no one is reading their Emails or for a matter not even clicking through.
As time passed and new techniques evolved Email outreach started to fade away from the scenario.
Until not quite recently, the category of marketers who kept on using Email Marketing as a strategy started getting positive responses.
Digital marketing experts and influencers like Brian Dean and Neil Patel and several others recommend Email Marketing as a necessity to help you in your link building efforts.
You cannot utilize its benefits unless you know what it will fetch you.
The same thing that happened to me.
Though I had come across many of the SEO and inbound marketing experts who would recommend Email Marketing, I never trusted it would fetch me results.
Long back when Backlinko's Brian Dean declared that Email Marketing fetched him great results, it crossed my mind- he is Brian, and these things will work for him and not for me.
But trust me it works for everyone including you and me.
So, what I am going to do here is provide you an insight into the steps I followed and how things changed for me taking my business to the next level.
Building links through Email Outreach:
Out of every 100 Emails that you send, 5 of them will show up.
Now I know 5 is a small number but no! It is a big number when you have nothing with you.
If you have less than five responses or no response at all, then as Neil Patel specifies you might need to examine the following points:
Email copy that is too boring
You are emailing your competitors
Emails are reaching unrelated sites
So, now here is the step-by-step process to help you build links:
#1. Select the blog, you want to share
For example:
Suppose this is the blog that you are planning to share:
Animation: Enhancing User Experience (UX) with the basic principles
What are your keywords?
Find your competitor sites listed on Google's first page using your blog's related keywords.
The screenshot below depicts what I found.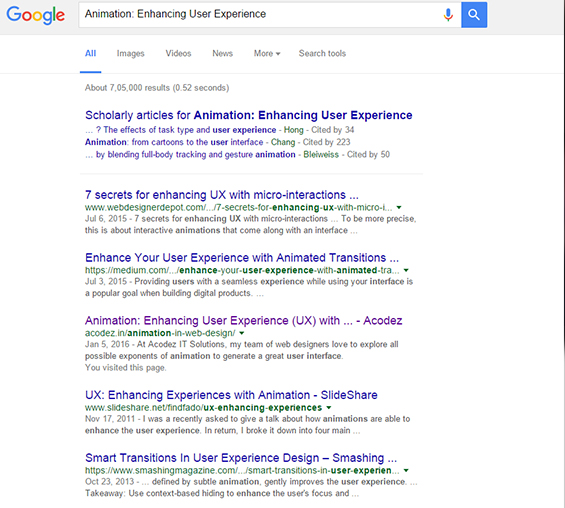 Done?
Now you have the complete list of your competitor sites.
Many competitive link checking tools are available for creating this list.
These tools include Majestic, Ahrefs, Moz, etc.
From this list displayed on the first page of Google, you can identify the people who are linking to these websites.
Eg: Here, I have chosen: 7 secrets for enhancing UX with micro interactions which rank first over google for that keyword
Check out the screenshots using different tools:
Using Majestic: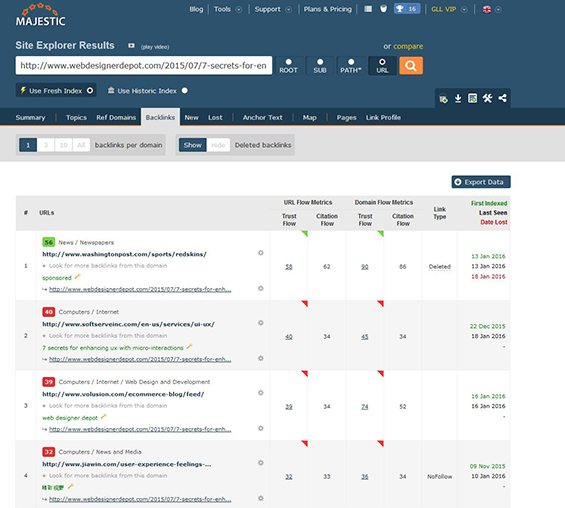 Using Ahrefs: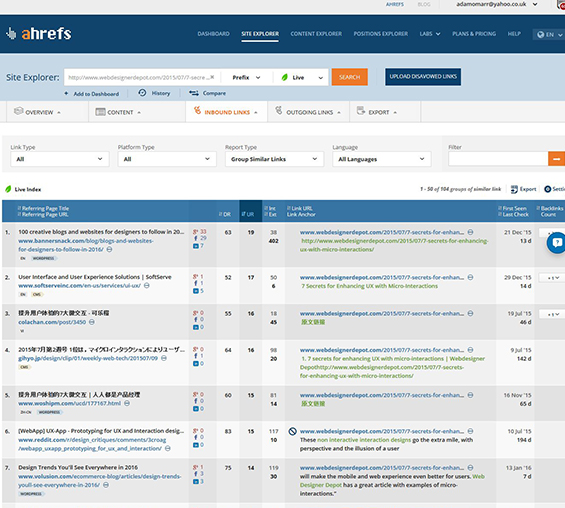 Using MOZ: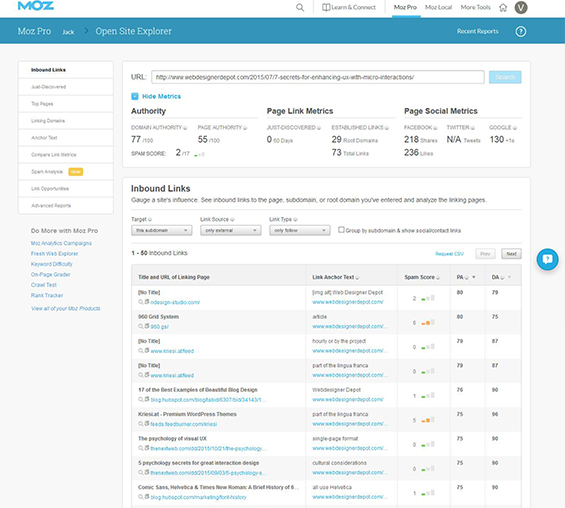 Now you have found out the linkers.
The next you can start Emailing them.
But where will you Email them?
Find out their Email Addresses.
Here, I have listed out how to find their Email addresses:
Tools for Finding our Linkers Email Address:
#1. ContactOut: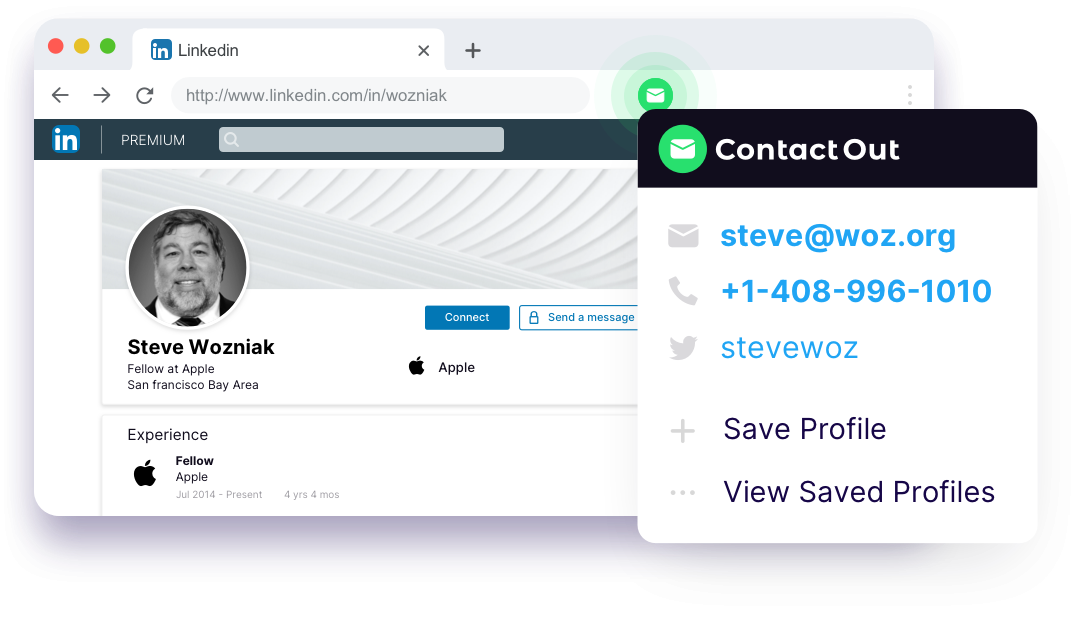 ContactOut is a lightweight Chrome extension that gives you the ability to quickly find the email addresses and phone numbers of your link building prospects through their LinkedIn or GitHub profiles. The tool also comes with a dashboard that lets you easily organize your leads. Another useful feature of this a people search portal that lets you find the contact details of people that are not in GitHub or LinkedIn
#2. Full Contact & Email Permutator:
These are the free tools for finding the bloggers email addresses. Firstly, we need to install full contact addon in the browser.
After signing up for full contact go to: http://www.emailpermutator.com/permutator/ and enter the following details:
First name, middle name, last name, and company or URL of your blogger.
Then click on submit. Once submitted you can find that person's email address instantly.
For e.g., Here you can see the screenshot of how I searched for the email address of Rand Fishkin and the domain moz.com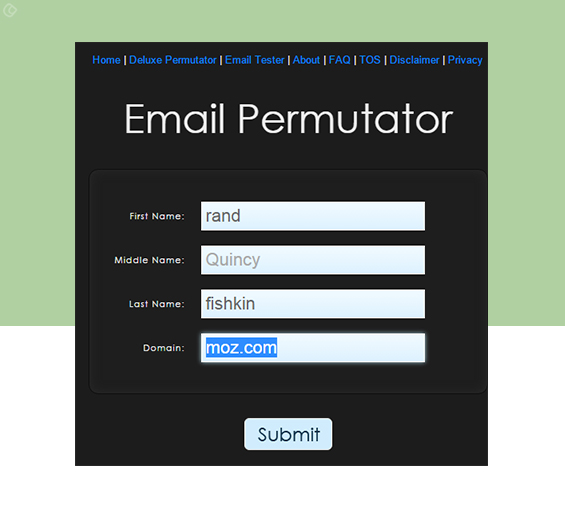 After submission you will get the available email addresses of that person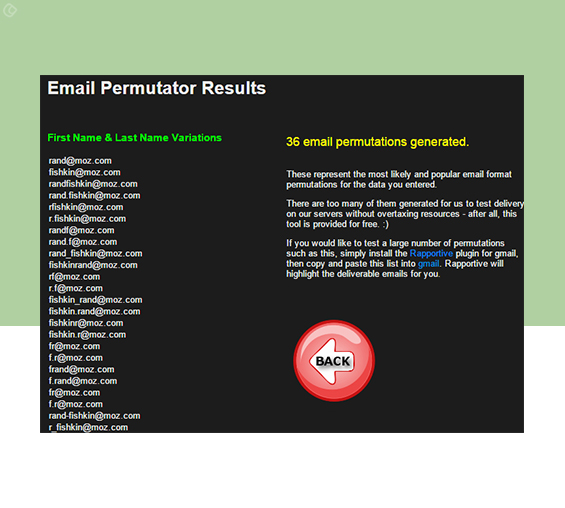 Copy these email addresses and send out mails to them.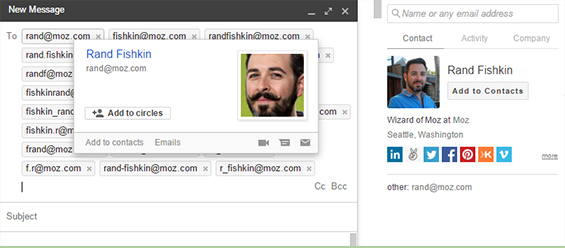 The Email addresses fetched by Full contact are correct.
If your bloggers Email addresses are connected to Google  Plus, then you can get access to their Google Plus Profile and image too.
#3. Rapportive:
Rapportive is a great Gmail plugin that lets you see if there is any Linkedin account associated with these email addresses. Linkedin actually owns Rapportive.
#4. MailTester.com
MailTester.com may be one of the most underrated tools online, but it also depends on how your target's mail servers are setup.
MailTester will take an email address you have, and tell you if it exists on that company's mail server. Sometimes, mail servers block verification, but I'd say most of the times, you'll be able to find a valid email address.
MailTester will color code your checked email addresses as you put them in one by one.
If it responds with yellow, it means verification is blocked. Bad luck!!!!
If it shoots back red, the email address doesn't exist.
If it gives you green, crank up the Rockwell because you found their email!
For Example: Take one of the emails from email permutator as shown here: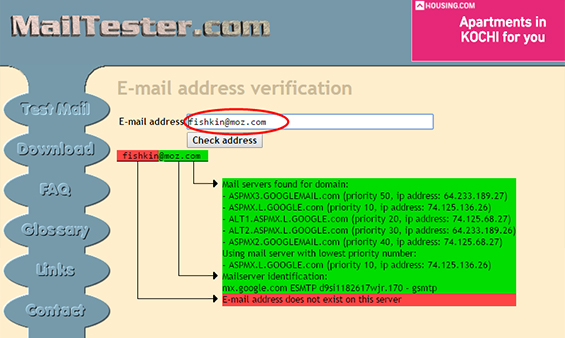 If this email address is wrong. Move on with the next one and check it using mailtester.com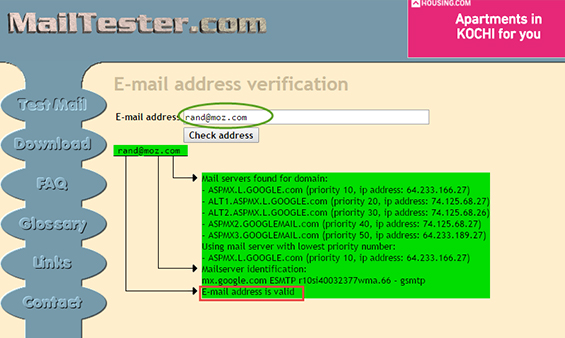 Here it shows the email is valid.
#5. Buzzstream Buzzmarker
Go to >> buzzstream.wistia.com>> create a profile>> Login and then you need to install buzzstream, buzzmarker extension on your browser.

Using this tool you can search your competitor site linkers email address
After Browsing our competitor site linkers website >> click on Buzzmarker addon>> It will show their linkers email address.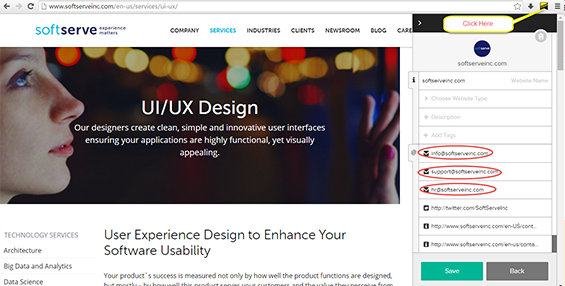 If you failed to find the email addresses for particular blogger using these tools, then search bloggers google plus, twitter and instagram profile, if available.
Eg:  You have to find the email address of Matthew Kepnes. He is associated with www.nomadicmatt.com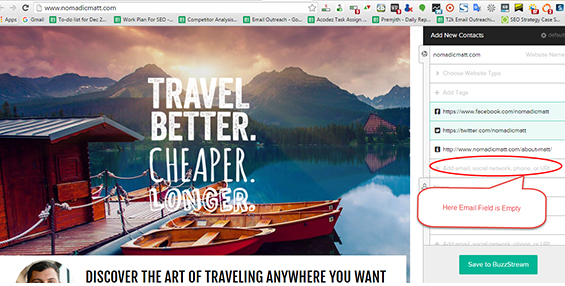 Here, we failed to find any email address of Mathew Kepnes. Then, we went on to search for his google plus profile.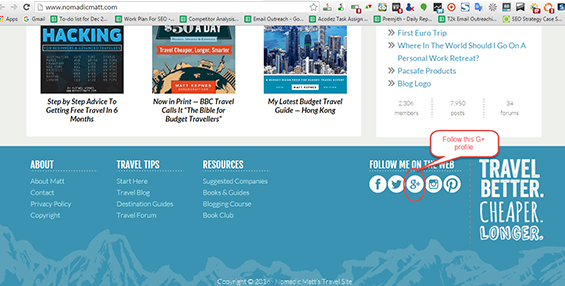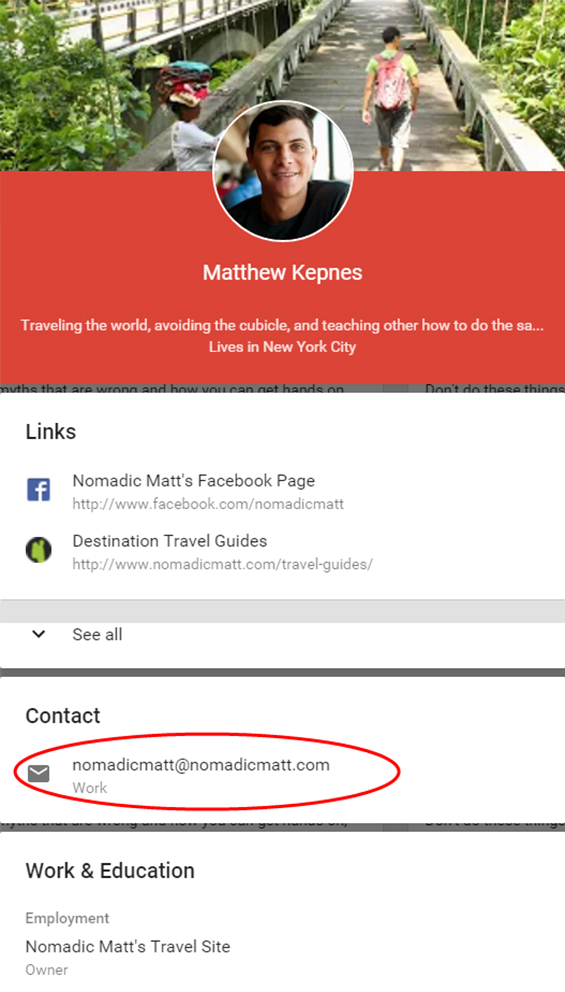 At last  we found his email : nomadicmatt@nomadicmatt.com
#6. Zoominfo
ZoomInfo provides the most comprehensive source of business information on people and companies in the world.
How it works?
Just signup and login to the www.zoominfo.com
Then type your blogger name <company name>zoominfo in Google.
Eg: Here we want to find the email address of Ryan Pinkham, who is the content manager from Constant Contact. We need to reach him through his professional email Id.
But how?
Here is what I did:
Just write  Ryan Pinkham constant contact zoominfo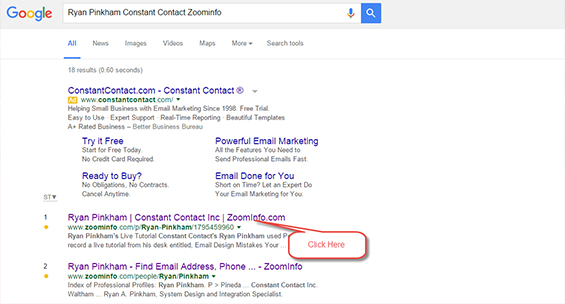 Then Zoominfo Shows the complete contact information including his Email address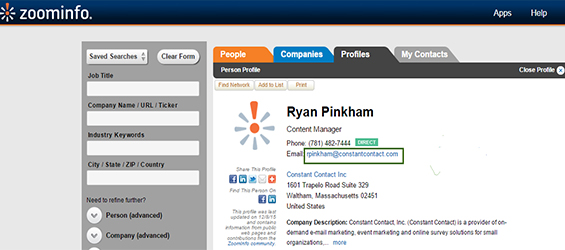 #3. Process of email Outreaching
Firstly, we have to find our competitors linkers Eg : We choose http://www.webdesignerdepot.com/2015/07/7-secrets-for-enhancing-ux-with-micro-interactions/ (7 secrets for enhancing UX with micro interactions) which is appeared on the first page of google.
Then find the linkers who is linking this URL using any of the tools such as Majestic, Ahrefs and Moz as shown above.
Then we select http://www.colorwhistle.com/web-design-and-ui-design-trends-to-follow-in-2016/, which is one of the linker to that particular URL and go through this URL.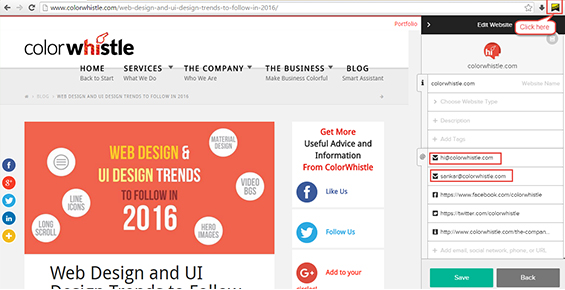 Then I sent an email to hi@colorwhistle.com .
Here is the Email I sent him:
He replied: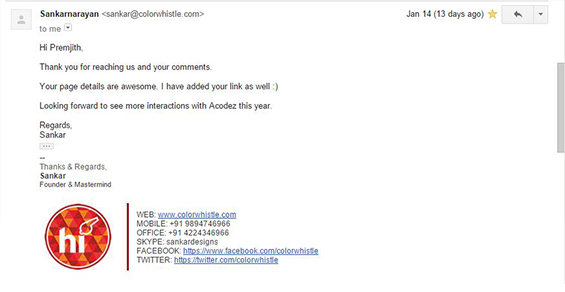 And we got a link: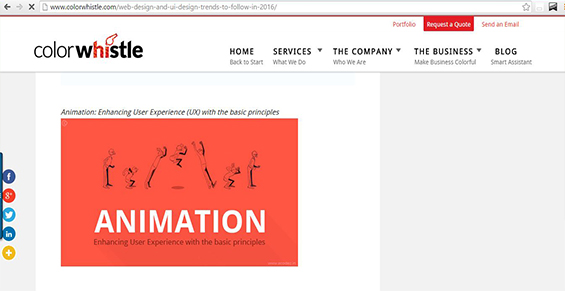 Note *
If you didn't get any response from your linkers, when you reached them through first email don't fret or lose hope.
There is always a second chance. Send a reminder mail after 6 to 7 days.
Eg :
Here http://www.playmagazine.info/7-secrets-for-enhancing-ux-with-micro-interactions/
I sent my first email to contacts@playmagazine.info. But they didn't reply to me. Approximately a week later I sent my second mail, a gentle reminder mail to them.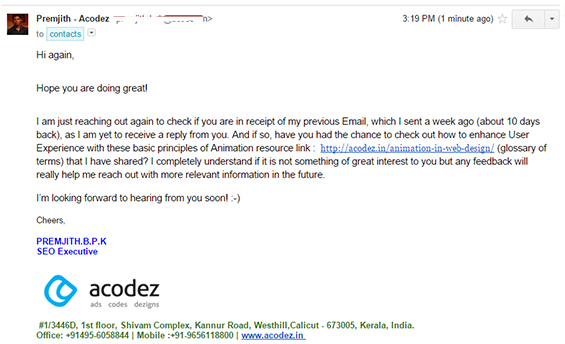 The next day they replied me.
Finally, we got the link.
Bonus Points
Predict or Guess the email
Here we are guessing someone's email address on the basis of  certain things.
Eg:
Suppose we want to find the email address of  Joao Leitao, who run a website www.joaoleitao.com. But we didn't find any email address from his website. Then the best thing you can do is check out his social media profiles.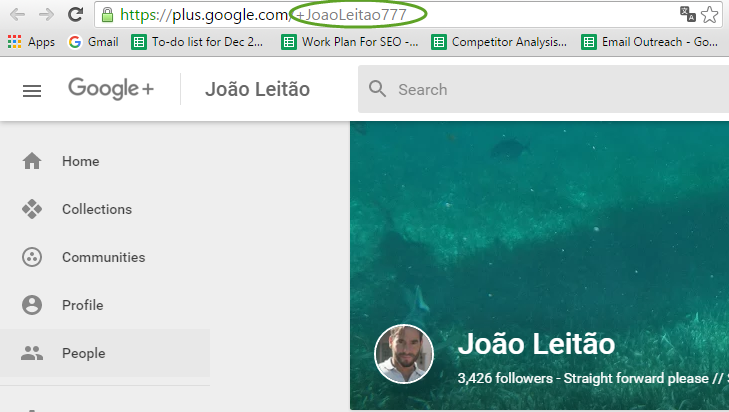 Then closely watch his social profiles URL.  Here the names are
joaoleitaoviagens, joaoleitao and joaoleitao777
Put these names into gmail domains like joaoleitaoviagens@gmail.com, joaoleitao@gmail.com and joaoleitao777@gmail.com
Then put these random email addresses into the Gmail compose field as shown here: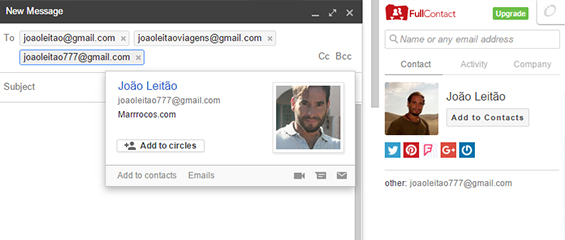 Here we will get the correct email address of  Joao Leitao through our prediction.
Ryan Stewart from Webris – Techniques to find any personal email address:
11 Ways to Find ANY Personal Email Address (i.e. Sales, PR, Link Building)- Ryan Stewart from Webris
*Note:
It is not necessary that every time the Email Outreach will be a happily ever after Cindrella fairy tale.
Be ready to face failures.
It does not work always.
Of course there are two sides to a coin.
It should not possibly work at all times.
There have been occasions where in I received negative responses from the bloggers. Some demanded money for contributing their ideas and views. Here I have listed out those stories;
We were reaching out these bloggers for our client Tours to Kerala.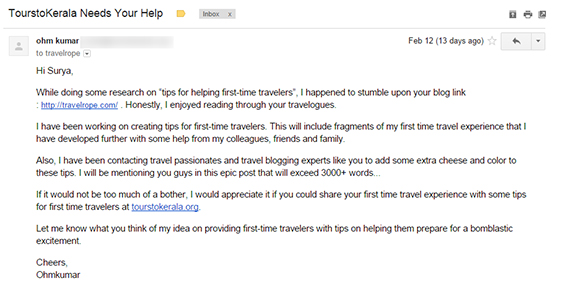 This was the reply:

But after a failure, a success follows and let me tell you the truth Email Outreach will help in link building.
Maybe it is not necessary that you succeed in the first go. The content of your Email also matters. Make it compelling.
Hope you find the guide helpful in your Email Marketing efforts for link building!
Share your thoughts, comments and feedback with me…